CORBALLY BOAT CLUB - AN TOSTAL PARADE 1953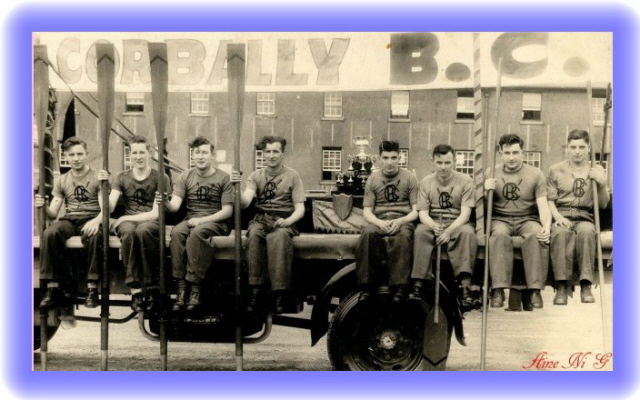 Corbally Boat Club taking part in the An Tostal Parade in Limerick in 1953, on the float were - From left: Ger Gilligan, Denis O'Shaughnessy, Bob Kinsella, Larry Kinsella, Kevin O'Reilly, William Lysaght, Larry Devaney, Martin Hogan.
CORBALLY REGATTA 1953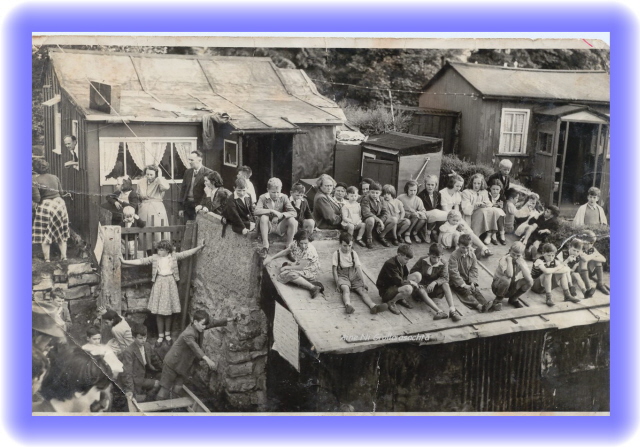 The boathouse at Lysaght's Hut beng used as vantage point during the Regatta.
Spectators from left: Mrs. Rosaleen Lysaght, Joan Eakins, Davie and Sarah Keane, Paddy Kinsella, Mrs. Frahill, Mrs.Hannah MacLysaght, Hannie Reid, Maurice McMahon, Johnny Reddan, Paddy Moloney, Joe Dennihy, Mary Sheehan, Terry Gilligan, Myra Sheehan, Monica Byrnes, Joe Sheehan, Helen Gilligan, Connie Kerley, Pat Lysaght, Tim Dennihy, Ger Collins, David Sheehan.
POLING ON THE FALLS AT END OF MILL ROAD, CORBALLY
POLING RACE - CORBALLY REGATTA 1953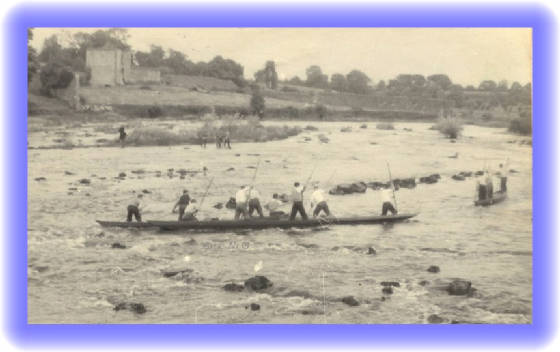 The Falls at end of Mill Rd, and St. Thomas's Island. Winners: W. Lysaght, Bob & Larry Kinsella
PARTICIPANTS LINING UP FOR SENIOR FLAT RACE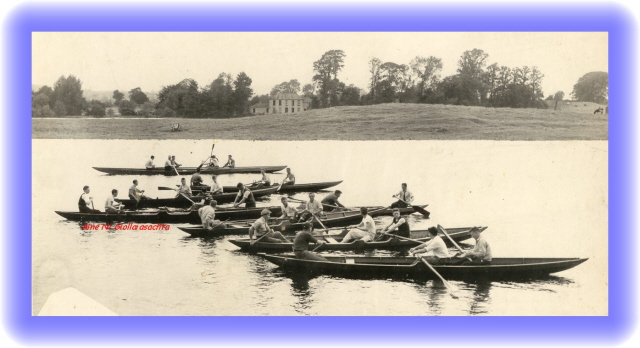 WINNERS WERE; WILLIE DUHIG, JIMMY DUHIG AND JOE HAYES

PRIZEWINNERS AND SPECTATORS CORBALLY REGATTA 1953
Susan Kinsella, Larry Kinsella, Mickey Collins, Johnny Delahunty, Martin Hogan, Pat Lysaght, Fergie Collins, Connie Kerley, Greg Clancy, Joe O'Shaughnessy, Densie Cowhey, Joxer O'Shaughnessy, Peter Fagan, Larry Devaney, Willie Duhig, William Lysaght, Jimmy Duhig, Johnny Hogan, ? O'Brien, Mrs.Hogan, Joe Gilligan, Mat O'Brien, Florence O'Mahony, Donal Lysaght, Arthur Lysaght, Austin Sheedy, ? Murphy, Monica Byrnes, Terry Gilligan, Mrs, Frahill, Mrs. Gilligan, Mrs. Collins, Kevin O'Reilly, Mr. & Mrs. Pat Hogan, Michael Hogan, Gerry Hogan, Joan Hogan, Ann Lysaght, Liam Gilligan.

CORBALLY REGATTA 1954
Joan Hogan, Greg Clancy, William (Nay) Lysaght, John O'Reilly, Joe Hayes, Pat Kirwin, Fra Hayes, Tommy Cross, Jimmy Duhig, Willie Duhig, Gerard Hogan, Mat O'Brien Jnr. Aine Cross, Ald. Ted Russell, Cyril Kiely, Austin Graham, Bob Kinsella, Hughie Flannery, Willie Woodland, Denis O' Shaughnessy, Martin Hogan, Tom Moloney, Dermot (Kokie) McNamara, Mick Hayes, Sean Kennedy, Freddie Bromell, Joe McNamara, Joxer O'Shaughnessy, Michael (Mikey Joe) Collins and Spot, and Matt O'Brien.