During the era of the Abbeymen many regatta's were held at different venues and poling was the main attraction. Keen rivalry, excitement, trills, spills and much quaffing of porter made for simple enjoyment.
After the Abbey Fishermen ceased operations in the late 1930's regatta's were only sporadic events and poling a boat nearly faded into oblivion. The brocauns were disappearing from the rapids of Corbally, Plassy, Doonass and Castleconnell.
One remembers the Strand, Curraghgower, Abbey and Plassy regatta's of the 1930's in which the prizes were much needed hard cash. A revival of these regattas took place in Corbally at 2.30 p.m. on Sunday, 8th June, 1952 in which amateur status for trophies was introduced.
FOUNDING COMMITTEE OF 1ST CORBALLY REGATTA 1952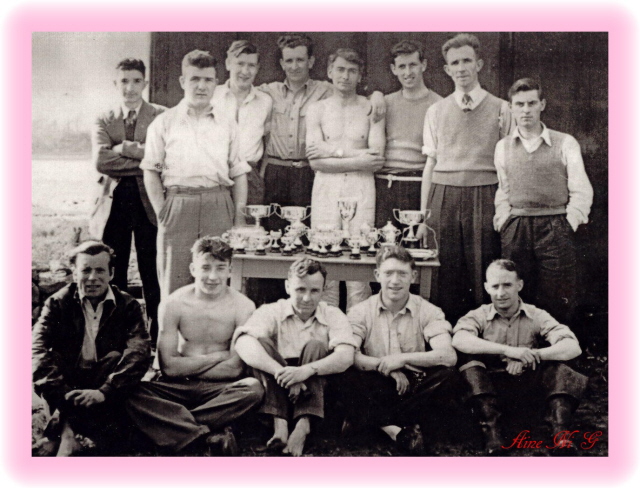 Chairman, Kevin O'Reilly. Hon. Treasurer, Joe Gilligan. Hon. Secretary, William Lysaght
CORBALLY REGATTA COMMITTEE 1952 - Back Row: Left: Kevin O'Reilly, A. Hanley, Bob Kinsella, Larry Kinsella, Johnny Delahunty, Seanie Gilligan, Joe Gilligan, Pat Hogan. Front Row: Left, Tony Darcy, Dom Sheehan, William Lysaght, ? Real, Donal Lysaght.
CORBALLY REGATTA 1952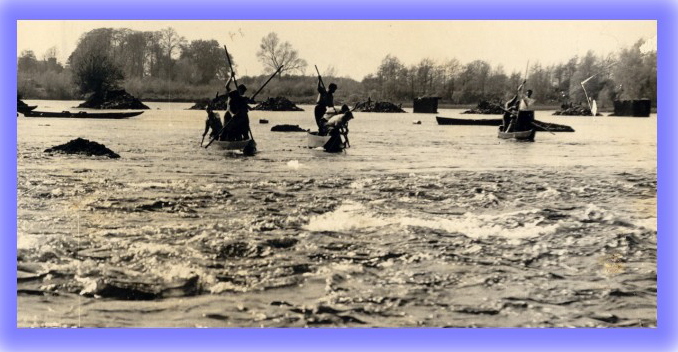 LAX WEIR STARTING POINT FOR POLING RACE
OVERTAKEN BY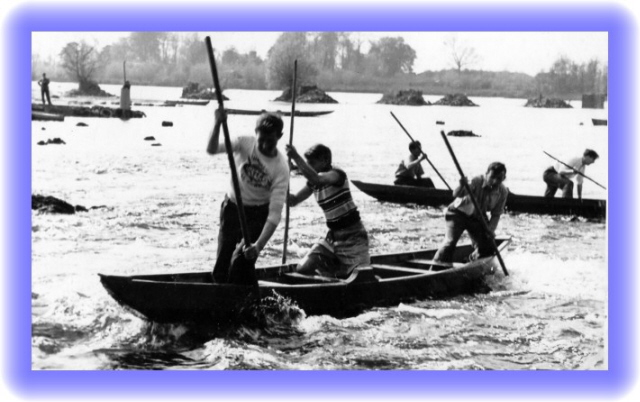 SEANIE GILLIGAN, JOHNNY DELAHUNTY AND WILLIAM LYSAGHT
CORBALLY REGATTA 1952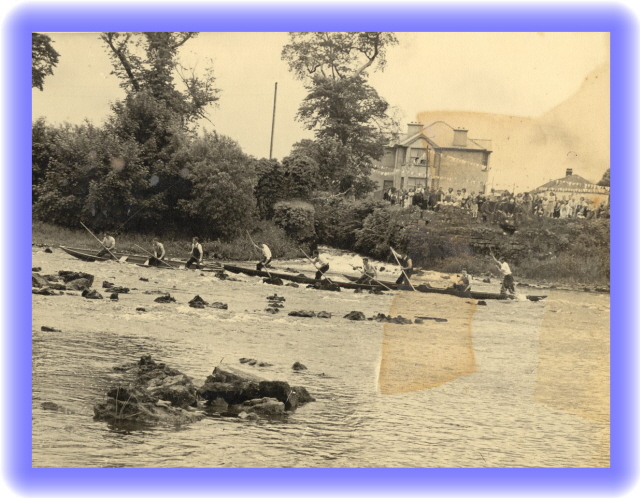 POLING UP THE FALLS AT THE END OF THE MILL ROAD, CORBALLY
POLING

Poling is a very skilful and spectacular method of propelling a boat over rapids, shallows and fast currents. This method was practiced for centuries by the Abbey Fishermen in their brocauns. The brocaun is a flat bottomed boat similar to the angling cots seen here in the photos.

Before the Shannon Scheme, the Shannon from O'Brien's Bridge downstream was in its glory, poling was a test of skill and strength, but the Shannon in an angry mood deterred even the Abbeymen.

Poling was in the past performed by two men only, but when it was introduced as a sport a third man was included. The pole used was approx. 11 ft. long and 2.5 inches in diameter, it was made of ash and at each end to strengthen the pole it had an iron ferrule.
Other events at the Corbally Regatta's were the Cot Race, Punt Race, Canoe Race, Obstacle Race, Swimming Race, Greasy Pole and Duck Hunt.
Music was provided by St. Mary's Prize Band.
.