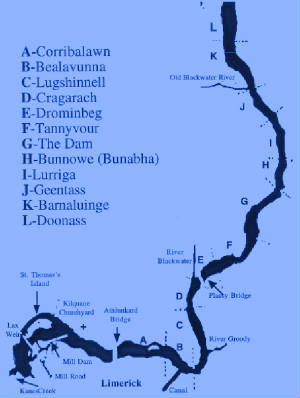 A - CORRIBALAWN - Swan Drop, North Swan, Nose of the Island, Shore Ahaun, Davy, Tipp, Middle Height, Middle Draft, Whiskey, Feehib, Scrab, Ailshura, Gula, Shore Gula, Shura, Limekiln Height, Finnoe, Upper Neck, Poulahurra, Colahera, Colahurra, Poulahera, Eddy of the Hole, Arch, Glosacrubeen, Corneen, Neck of Soemore, Sleemore, The Bishop, The Rope Walk, Back of the Wall, Shore Lugnafarna, North Smidaun, South Smidaun, Stream Draft, The Monkey, North Monkey, South Monkey, Shore Doonalaun, Outer Doonalaun, Shore Giree, Outer Giree, The Quarry Hole, Bundey, Big Height of Bundey, Orchard Hole.
B - BEALAVUNNA - Shore Draft, Second Draft, Outer Long Haul, South Side, Rugged Muzzle, Gravelly Haul, Tail of Bealavunna, Morgan's Height, Gullies Height.
C - LUGSHINNELL - Jones's Hole, Altabuga, Shore Second and third Drafts of Altabuga, Dromroe, Shore and second Draft of Blister.
D - CRAGARACH - Sand of Blackwater, South and Shore Draft of Tulleragh, The Heights and Hollows, Cragriff, Shore Second and Third Draft of Cilloe, Crag of Cilloe, Ardauncrohoo.
E - DROMINBEG - North Flat, Keadine, Shore, Deep and Cashel Draft of Tarantomais, The Arches, Aragal and Outer Drafts of Skitogue, The Bulldogs, Soth Flat, Garrison, Drominbeg, North and South Serher.
F - TANNYVOUR - Leegentoo, Trawnock, Tady, The Little Deer, Slomacka, Gurtnahalla, Lower Hole, Shore and Outer Lougnahalla, Ee of the Weir.
G - THE DAM - The Fall, The Shallows, The Gut, Blackberry Height, Bigh Height, The Break of the Dam, Bohogue, Bohogueahoo, Slune, Druminyan, Nose of the Island, Foaddrumsota, Paddy, Squires Height, Mulqueeny, Faillmore, Doolin, Cluheen, Troddle, Narrow Gut, Outer Sleemore, Bigjaw, Poulderaheen Newfoundland, Bullen, Shore and Outer Feebeg.
H - BUNNOWE OR BUNABHA - Cocklamore, Emeraglass, The Outer Skirt, The Fourth Draft, Taranasloon, The Loosing of the Ground, The Wheegee, The Beeger, The Sand of Bunnowe.
I - LURRIGA - The Shore Draft of the North Poulnalawn, The Outer North Poulnalawn, The South Poulnalawn,Cragriff above the Fall, Shore and Second Drafts of Lurriga.
J - GEENTASS - Shore Draft of Booger, Geentoo, The Depth of Geentass, The Shore and Second Draft of Geentass.
K - BARNALUINGE - Taranculla, Taranavulla, The Mud, Barnaluinga.
L - DOONASS - Shore Draft of Dull, Aragal of Dull, Outer Draft of Dull, The Shore Eddy, North Gutter, South Gutter, The Big Eddy, Sadove, Taranaslee, South and North Drafts of Leen, The North Camoges, Sehastapool, The Bush Hole.